Ahhh I'm so glad I'm finally publishing this post! I've been planning and trying to work on this for so long (basically right after
2017 Fall Fashion post
) but following more of the intentional structure of my
2018 Summer Fashion Trends post
. So again, I have three trends that I've enjoyed through the varying stages of fall -- and actually, I believe would work well into winter too! Just pop on a thicker coat or parka and done. So without further ado:
Trend 1: Mad for Plaid
All plaid is pretty trendy but I've been seeing glen plaid (grey monochrome plaid) in particular everywhere this fall. From blazers to dresses to skirts to pants, I've been seeing this pattern in all mainstream stores (Zara, Dynamite, Forever21, etc.)
Glen plaid pants from H&M
Bustier bodysuit from Dynamite
Leathers sleeve blazer from Danier
Heels from Aldo
My pants are actually from last year December, another one of those purchases that sat in my closet for a long time until it's debut. Given the super high-waist, I had trouble wearing tops tucked in cleanly. Two tricks I eventually found worked for me were: 1) crop tops that meet right at the pants, and 2) bodysuits that tuck in cleanly. I really enjoy this print because it works casually but can be dressed up with minimal effort for work as well (see my
glen plaid blazer
from way earlier in the year). It's now one of my go-to work pieces when I'm running out the door in the mornings!
Some glen plaid inspo photos:
Forever21 Blazer
Zara dress
Dynamite jumpsuit -- on sale!
Trend 2: Chanel-esque Tweed
This trend is a fast fave for me given the vintage vibes! I've always enjoyed tweed and am glad to see it become more accepted in youthful mainstream fashion rather than considered "old lady" wear.
Tweed blazer from Banana Republic (thrifted)
Black ruched dress from Banana Republic
Loafer pumps from Guess (thrifted)
I'm definitely at the stage in my career where I'm trying to dress more mature to help assert more presence at the office (sometimes looking younger than your age can be a real detriment!) It's pieces like this tweed blazer that act like armour, making me feel stronger and able to better endure the stresses of work. I love how it instantly makes a completely outfit out of a boring black dress. For the full vintage look, I paired my retro thrifted loafer pumps.
I've talked about this before but wanted to reiterate how second-hand shopping has been so good to me. Since I've been working out more this year, I've started developing upper body muscles that previously were non-existent. I'm still pretty slim but I've felt the uncomfortable pull in blazers and jackets that don't have any stretch. I've had to give up a number of my favourite blazers, a couple of which were Banana Republic, and couldn't replace with a bigger size without it being bigger everywhere else. This tweed one I found is an older BR size 2 regular and fits me perfectly and comfortably! Compared to the modern BR blazers in which I used to wear 00P but am now hulking out of due to lack to stretch. Will definitely be on the lookout for more older blazers.
Some tweed inspo photos: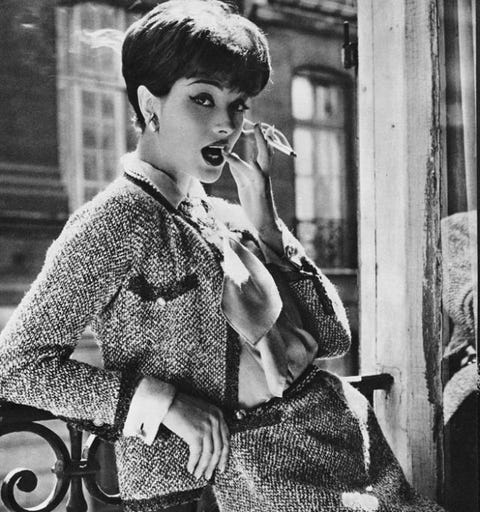 Classic Chanel tweed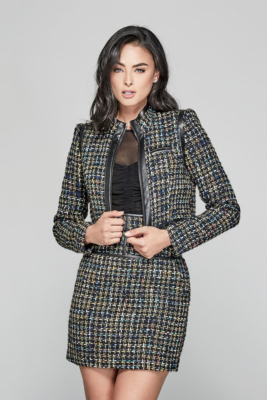 Guess modern tweed jacket and skirt
co-ord pieces from Zara -- totally Clueless vibes!
Trend 3: 70's Camel and Neutrals
70's as a whole has made a huge comeback lately and it's dominance over this season's fashion is undeniable. A big trend from the 70's comeback is the camel colour palette, as a neutral monochrome kind of look.
Camel sweater from Michael Kors
White pants from WHBM
Brown OTK boots from Hinge (Nordstrom)
Brown purse (thrifted)
I really enjoyed this monochrome palette for fall, all warm and cozy with its colour tones! This sweater is one of my favourites from a couple years back. The double hem is a unique twist and there are cute gold zippers on the shoulder (not too visible in this photo) that help open the neck hole a little wider so it's easier to pull over the head. Also want to rave about these boots which are also super comfy. They're a slouchier, less formfitting style than my SW Lowlands and a true brown colour rather than the taupe of my Lowlands. I'm unfamiliar with the brand (Hinge) but I bought them from Nordstrom a year or two ago and have held up well so far. My little finishing touch for this outfit has to be the thrifted purse that I fell in love with for its rich colour and buttery leather texture. I also attached my little rabbit purse charm for a final touch of softness and whimsy.
Some inspo photos for camel/neutrals:
from the runway
Zara's 70's Show editorial
Forever21's Facebook ad banner -- featuring 3 different neutrals outfits
In my summer post, I had two outfits per trend to show two different ways to wear the trend. I liked the idea of showcasing multiple options but I wanted to try a different angle, like
what if the outfits had more than one trend
?
What is this, a cross-over episode?
Plaid x Tweed
Burgundy turtleneck from Zara
Vintage tweed plaid skirt (thrifted)
Vintage brass bead necklace (thrifted)
OTK sock boots (thrifted)
I really appreciate how the classiness of tweed makes it a really easy piece for work. This outfit, as with the previous two work outfits, was also taken at/around my office. Sometimes, I find myself creating these hypothetical outfits that I would consider wearing but finding out they don't actually work out -- so for these ones, I wanted to make sure they all passed the test of being actually wearable and worn before I shot them! This was also the debut of my OTK sock boots with the patent cap toe -- so stylish and was a crazy steal from the local charity thrift store. The sole is stamped Made in Italy and vero cuoio (genuine Italian leather) and was magically my size (EU35) -- thank you shopping gods! As a separate, the boots could look too fashionable for work wear but I think it balances out the rest of the conservative pieces in the outfit.
I wanted to talk a little about the focus piece, the tweed plaid skirt. When I found it at the thrift store, I made sure to check the blazers rack in case it had a matching one that got separated upon donation. Surprisingly, I did find a matching buddy!
please ignore my doggo socks
So the blazer was clearly not donated by the same person, being several sizes bigger, and the white parts were oddly yellowed. When I put it on, I realized it was due to smoke staining over time, as the blazer reeked of cigarettes - blech. Just a reminder that not everything at the thrift store is a winner!
Tweed x Neutrals
For the last tweed outfit, I wanted to show that tweed can be worn casually too, not just for the office or as blazers of stuffy college professors.
Cropped cashmere cardigan from Theory (thrifted)
Striped bodysuit from Forever21 (underneath)
Custom-made tweed skirt (hand-me-down)
Wedge bootie from Locale (thrifted)
This tweed skirt has been in my wardrobe for years and years. A family friend's daughter passed it down to me when I was younger and still in school and not very into fashion, but even then I recognized quality pieces and always hung on to it. Funnily enough, my mom had gone to the tailor in China and had a similar skirt made of the same material, but hers has one large embroidered flower instead of several small ones -- so maybe I also kept it so I could match my mama :) The waist is high on this skirt so I used both strategies for high-wasited bottoms: bodysuit for clean tucking and cropped top to meet at the waistline. This Theory cashmere and merino wool cardigan is super warm and cozy and is a also definite winner from my thrift shop finds. It's finding pieces like this that keep me going back time and time again!
(P.S. sponsor me please Coco :) I will take payment in the form of unlimited bubble tea, thanks)
Neutrals x Plaid
This crossover combo was the hardest for me because a lot of plaid I own is very colourful or in the cooler tones (like the grey glen plaid) but I really wanted to show how plaid adds a visually interesting element to neutral outfits.
Plaid flannel shirt from H&M
Cardigan from Dynamite
Pants from Massimo Dutti
Taupe booties from Coach
Vintage brown belt (thrifted)
One thing I noticed while putting together neutral outfits was how easy it was to wash yourself out. I originally had a different plaid shirt underneath that was a smaller plaid print but when I dug out this shirt, I felt like the outfit was bolder and more energetic with the bigger print. This process also helped me realize that my neutrals tend to be more cooler toned (grey, black, and navy) so it was actually more challenging than I expected. A couple of things I tried to do that helped shape the final outfits:
not being afraid to use white instead of black
not being afraid to mix different shades of white/cream
watching out for the pitfalls of looking too equestrian
making sure I had a saturated focal piece to bring warmth and colour to the neutral palette (the purse, the boots, the pants)
Still, I felt like I could have done better so I'm including a couple more examples of neutral outfits done right from my lovely volunteers:
White funnel neck sweater from Nordstrom
Camel suede-touch skirt from Garage
Tights from Uniqlo
Booties from Zara
Joanna's camel skirt is the absolute quintessence of the camel palette vibes and I love that we got to shoot it with some fall colours! I like how she picked a thinner dernier pair of tights so her legs weren't opaquely black and I appreciate how she was able to use black in a way that doesn't overpower the outfit.
Cream sweater dress
Camel coat from Uniqlo
Black OTK boots from Steve Madden
I love Charlotte's camel coat and am glad to have an outfit in this post that includes outerwear (since none of mine do). Additionally, sweater dresses are so cute and cozy for fall and winter and OTK boots are a great way to keep covered up and stylish.
Hope you enjoyed these outfits! These seasonal fashion posts are always super fun for me and a great way for me to flex my creative muscles in addition to my regular monthly posts. I'm trying more and more to do planning to keep up the commitment instead of just hoping I'll get to it when I get the time. Here's to continuing to put out more content like this!
Thanks for reading :)