I hope everyone is having a great summer because I sure am! It's honestly such a short season compared to the long long winter here so I'm determined to get the most out of it. I had started on the content for this post in July and put off posting because thought I'd shoot more outfits by now but it's really been a whirlwind of activities and I now have a bunch of other photos I'll want to get to so here we (finally) go!
Pom-pom romper from American Eagle
Sunhat from Aldo
Sandals from Aldo
Vintage purse (thrifted)
I haven't shopped much from American Eagle in a few years now but totally fell for the pom-poms on this playsuit! Summer is such a fun time to be running around in playsuits and rompers -- they're easy to wear (like a dress) but with all the freedom and coverage of shorts! Truly the best of both worlds.
Disclaimer
: as cute as the Aldo sandals were and as much as I wanted them to work out, they were not real leather and fell apart in 2 weeks. Luckily I got a refund but it reminded me that quality materials matter.
Geo top from Forever 21
Salmon shorts from American Apparel
Vintage belt from my mom
Vintage raffia bag (thrifted)
Sandals from Massimo Dutti
Sunglasses from J Crew
From my last post, I've been trying to focus on classic colours that have stood the test of time. For summer, I love these salmon shorts that I reach for every summer. Who could have predicted that fun retro 80s mom vibe would be back in style? Is credit due to Mrs Wheeler and Stranger Things?? Last time I shot these shorts was for my
80s August retro carnival
shoot as part of my 2016 vintage fashion project and I find they're still a classic year after year. I know I don't show it too often in my blog but I wear a lot of my pieces in different outfits all the time. They're not always always shoot-worthy but I really like how this one turned out! I credit this cute geo print top which was a breath of fresh air to my closet full of striped tops (I might have an slight nautical obsession haha.) I wouldn't have normally thought to pair orange and salmon but I think it works with the brown neutral base tying it all together.
Lilac blouse from Banana Republic (thrifted)
Retro floral shorts (thrifted)
Sneakers from GUESS
Vintage purse (thrifted)
Speaking of Stranger Things and carnivals, I just found these super fun shorts at the thrift shop when I was waiting out a summer storm and this fair was the perfect place to break them out! As I was saying, the retro resurgence is hitting mainstream stores super hard this year but I personally prefer the thrift store for authentic pieces and at a lower price point too. As cool as it is to see the cyclical nature of fashion, it can also be tough holding onto pieces that are too thematic and are harder to pair when the trend passes. From that perspective, it's nice to not have to invest too much $$$ in a fun pieces you won't feel guilty about if you only wear it for one summer and can even donate back afterwards.
Stripe tee from Forever 21
Retro denim shorts by Tommy Hilfiger (thrifted)
Sneakers from GUESS
Sunglasses from Zara
One thing that I definitely straight up prefer true vintage for is classic denim shorts. This is definitely one of those pieces that can stand the test of time. While the newer shorts tend to have the bonus of stretchiness, the cut doesn't seem quite right somehow, even in the ones labelled "vintage fit". I find that while the waist is higher cut, so are the legs. Not that there's anything wrong with showing more skin but it's hardly the retro silhouette I'm going for with half my bum cheeks hanging out. Fashion tip: with the lack of stretch, I do find I need to size up for a more comfortable fit.
Another summer classic is the sundress. I love sundresses, especially in white. They're just so clean and fresh and a great look to stand out without overpowering flowers you might be posing with. This vintage dress is a great example of all of the tips I wrote about in my
shopping for vintage finds post
from last summer. When I first laid my eyes on this dress, I fell in love
so hard
. The material is cotton with a unique eyelet pattern, solid construction and cute buttons. But the fit on first try wasn't perfect. The arm holes were weirdly tight and so was the neckline when it was buttoned up. Upon closer inspection, I noticed a lot of material in the cuff I could let out, and a quick pinning of the collar gave it a less stuffy look. I knew I could make it work and didn't want to pass up on this beauty. So happy to have been able to shoot it during the lavender festival!
close up of the lavender
Vintage printed romper (thrifted)
Retro belt from Tommy Hilfiger (thrifted)
Vintage raffia purse (thrifted)
Sandals from Massimo Dutti
Given how fond I've gotten of rompers and playsuits, it seems quite fitting to open and close this blog post with romper outfits! When I found this piece at the thrift store, it was hanging in a completely different size section with no size tags on it. I had just watched the episode where Eleven from Stranger Things goes on her shopping spree and I was instantly certain this was my version of her romper.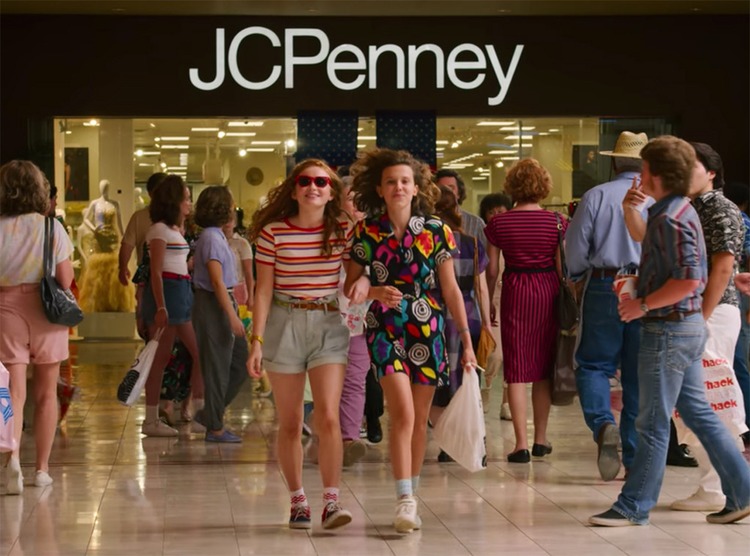 positively fabulous
And amazingly enough, it was a perfect fit! Some things are just meant to be :) As much as I love the fun print on El's, I appreciate the versatility of my leaf print. See below how I originally wore the set, with my trusty sneakers and equally retro fannypack.
ribbit
Some may have noticed that I only have 2-3 different shoes and purses for all the outfits in the post. That's totally on purpose! I do own (many) other shoes and purses haha. In my recent efforts to edit down my closet, I found a lot of summer attire for women falls into "fast fashion" of lower quality materials and super trendy styles with high turnover. In other words, cheap little tee shirts and shorts that fall apart or out of style within a year. But with my shoes and purses purchases, I've found that I happily reach for the same reliable pieces again and again. It really goes to show that there's a good balance in which things it's okay to buy in trendy, short-term styles versus which things to invest in classic styles that will go with a variety of outfits and won't lock you in to a certain trend. It might not be the same for everyone, but for me, that means shoes and accessories that I know will look good and I don't have to stress about pairing.
As mentioned in the previous post, there's a video of the trips where a lot of these outfits were shot! It was my first time trying my hand at video!! (was actually so hard) but here it is below. Hope y'all enjoy these clips set to one of my favourite songs Summer Daze by George Shaw:
Hope you enjoyed this post! These fashion ones are always so much fun :)